What is Halal Food
Halal food comprises all food, beverages and/or the ingredients that can be consumed by Muslim and permitted under the Shariah law and fatwa which fulfills the following conditions:
Does not contain any part of an animal that is prohibited by the Shariah law and fatwa (dog and pig or its derivatives) or any animal that has not been slaughtered in accordance with the Shariah law and fatwa;
Is not contaminated with najs (impurity);
Does not intoxicate;
Does not contain any parts of a human, which is prohibited by the Shariah law and fatwa;
Is not poisonous or hazardous to health; and
Is not prepared, processed or manufactured using equipment that have been contaminated with najs (impurity);
Has not while preparing, processing or storing been in contact with mixed, or in close proximity to any food that fails to satisfy items (a) and (b)
CILI PANDA Employee Responsibility
Cili Panda employees are committed to comply with applicable laws governing the halal certification.
In circumstances involving non-compliance, employees are urged to report to the Shariah & Halal Compliance Department immediately for further action.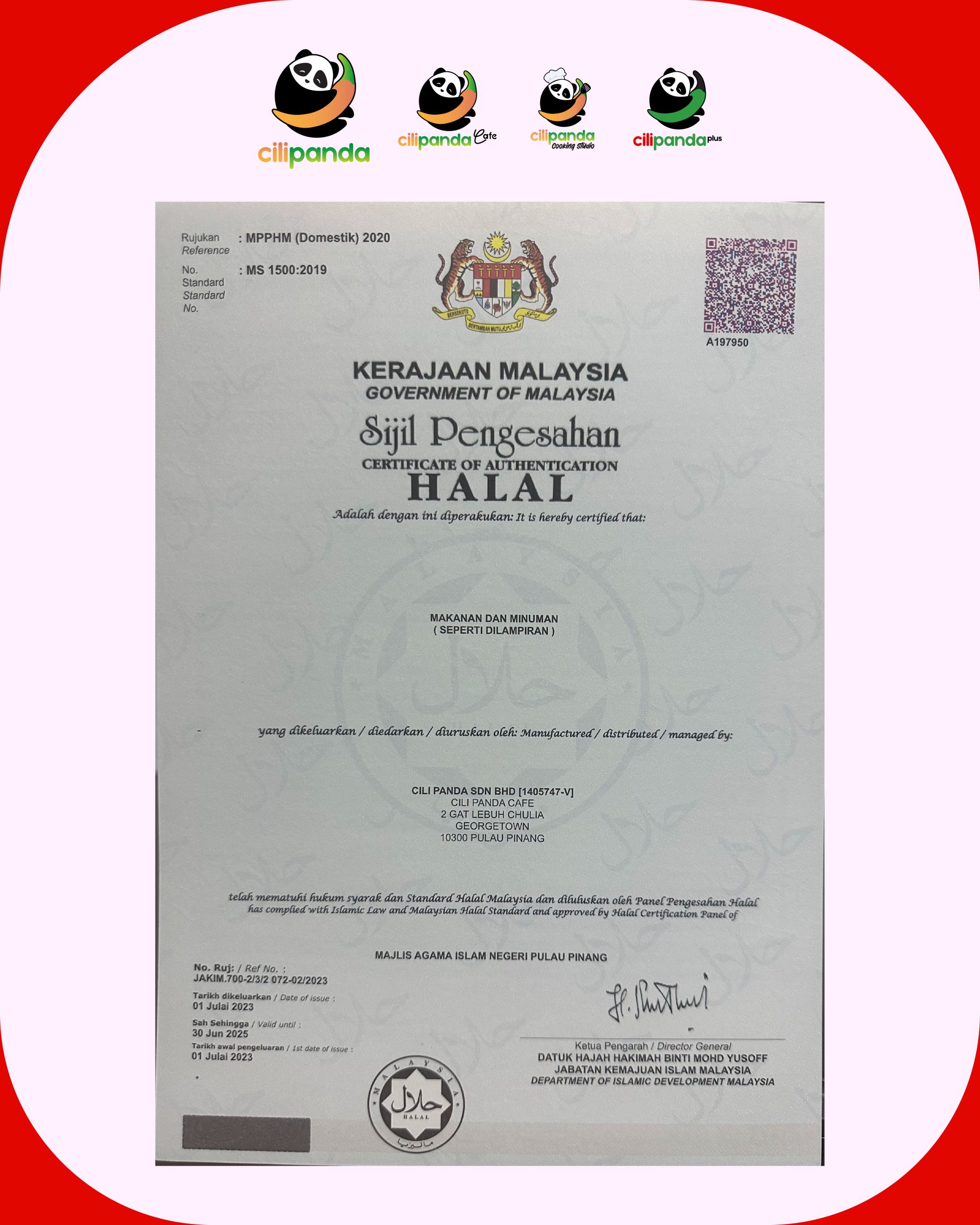 Internal Control
On top of obtaining halal certification for our operational premises, we also stringently conduct internal control over raw materials procurement, manufacturing, handling, processing, packaging, storage, transportation and equipment/tools usage (From Farm to Fork). This is to ensure that all our products and/or menu comply with the Halal requirements.
We are extremely diligent in preventing najs cross-contamination or contamination with hazardous contaminants. We also adhere to Halal industry best manufacturing practices to maintain the highest standard of quality and hygiene in food production.

External Control
Prior to granting Halal certification and the use of halal logo, inspection of our operational premises  shall be conducted by the Department of Islamic Development Malaysia (JAKIM) & State Islamic Religious Councils.
The Halal Certification Process: Locally-Manufactured Products
1. Develops menu based on ingredients approved by our Shariah Advisory Council
2. Submits halal application to JAKIM for approval
3. JAKIM processes the application, then conducts the field audit
4. JAKIM Issues the Malaysia Halal Certificate
Raw Materials
All raw materials suppliers are required to submit a statutory declaration to confirm that they comply with Halal requirements in relation to the manufacturing process, handling, storage and transportation of products supplied.
For enquiries, please email to info@cilipanda.com